When you live in the McKinney, Sherman, or Allen, TX area, you understand just how important it is to have a fully functioning air conditioner. Whether you need an AC repair, a full AC system replacement or a brand new air conditioning system for a newly constructed home, you can count on the AC installation team at Adon Complete Air Conditioning & Heating to give you the best service around.
AC Replacement Services in Collin & Grayson Counties
Free estimates

on installations and replacements.

5 and 10 year

AC

product warranties

available.

Up to a

10 year labor warranty

available.

Flexible and convenient

financing options.
New HVAC Regulations Coming Soon
Looking forward to replacing your outdated air conditioner? There's no time like the present!
The Department of Energy has instituted new minimum energy-efficiency standards for air conditioners and heat pumps that will go into effect on January 1, 2023. This will cause prices to increase for new system installations — so don't delay if you're thinking about upgrading your current unit.
Schedule a free full-system evaluation, and one of our comfort consultants will be happy to provide you with the best custom-fit recommendation for your home.
 The Adon Way
Living in Texas means running your air conditioner throughout much of the year. Even a small difference in efficiency can make a substantial impact on your electric bill.
That's why we start every AC installation project with a load calculation to determine your home's cooling needs. Load calculations help us to avoid the wasted power that comes with an oversized system and the increased wear and tear that an undersized system will endure. Our load calculation takes into account all of the following factors:
Square footage

Layout

Insulation

Certain appliances that increase the cooling load.
Once we know how much cooling power your home needs, we'll help you pick the right Trane air conditioning system to meet your unique needs.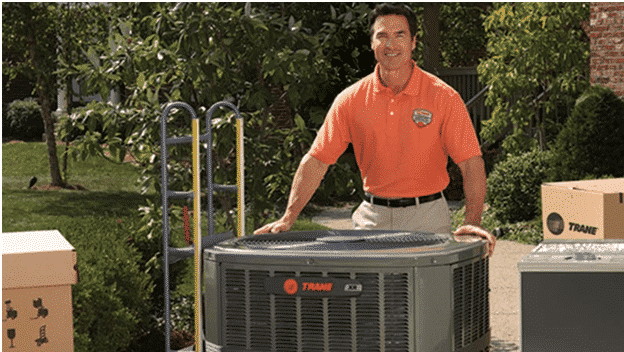 We Are A Trane Comfort Specialist
We're proud to be a Trane Comfort Specialist, which means we're the manufacturer's handpicked choice for AC installation and air conditioning replacement in our area. Trane Comfort Specialists are required to meet high standards for technical expertise, brand loyalty and customer satisfaction. We know Trane systems inside and out, and we have a long track record of successfully completing AC replacements and installations in our customers' homes.
But that's not all! Our expertly trained technicians can install all AC makes and models, including Lennox, RunTru, and more.
Here's what else our customers love about us:
We offer a two-year heating and cooling maintenance plan.

We take pride in the quality of our installations.

We are experts in high-efficiency systems.

We provide excellent customer service.
You're going to depend on your air conditioner for a long time and you should be able to depend on the comfort specialists who install it. That's why we encourage you to reach out to Adon Complete Air Conditioning & Heating when you're ready for a new air conditioner in Allen, Frisco, McKinney, Sherman, Anna and surrounding areas.
Our Team Is Ready for Your AC Installation Project
There are many reasons you might need a new air conditioner. You may need a whole system for a new home, or you may be looking for an energy-efficient upgrade. Regardless of your situation, you can count on our team to provide great customer service. We take particular pride in our familiarity with the newest, most efficient technology in the HVAC industry.
When you're ready to invest in a new air conditioner, trust the comfort specialists at Adon Complete Air Conditioning & Heating to make that investment strong.