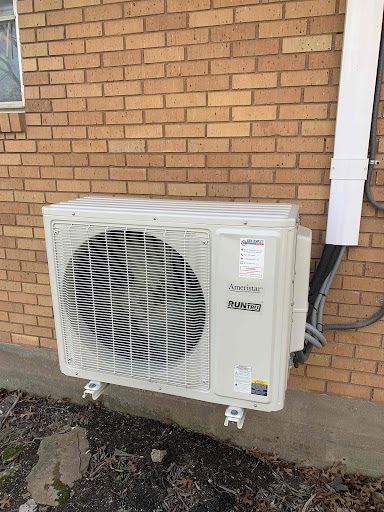 Moving into a new home offers up countless opportunities. You get to work with a clean slate and make the space entirely your own. However, if you're starting at square one and need to install an air conditioning system in your new abode, you might not know which option is right for your needs.
As you may already know, central air conditioners are one of the most common options among homeowners. Despite this, you may have also heard that ductless mini split systems are growing in popularity — which is true. Both types of systems boast various benefits.
Are you feeling stuck choosing between these two options? Are you unsure whether a central AC or ductless system is better for a new home? Let's discuss everything you need to know about central air vs. ductless AC systems.
Mini Splits vs. Central Air Systems: How Do They Work?
Installing a new air conditioning system in your home can seem like a daunting task, as it's a substantial investment that can impact your comfort in many ways. However, before we get into the nitty-gritty details, it's best to start with the basics. For instance, it's essential to know how each type of system works.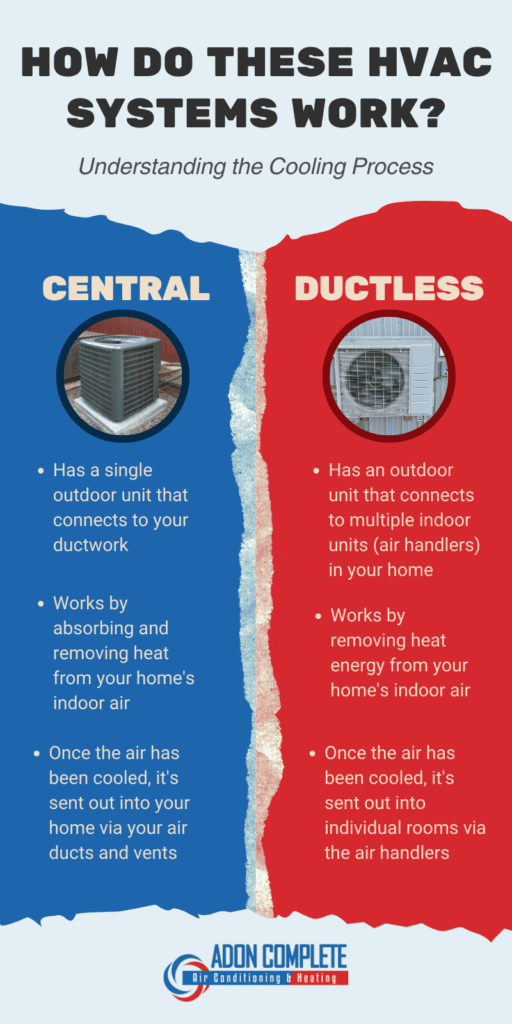 Which AC Is Best for a New Home?
Now that you understand the basics of central air vs. ductless AC systems, it's time to decide which one you should install. In order to do this, you'll need to know what you can expect from these systems regarding ductwork, appearance, efficiency, and installation costs.
Ductwork
If you're unsure whether you should choose a central AC or ductless system for your new home, it's crucial to think about ductwork. For example, if you wish to install a central air system, you'll need to think about how the cost of adding air ducts to your home will contribute to all of the other upfront costs. By all means, if your home already has existing ductwork, then you don't have to worry about this particular issue.
Overall, installing a ductless AC system could be the better choice if your home doesn't have existing ductwork. Since these systems don't require air ducts, the initial costs are usually lower, and the installation process is typically on the quicker side. Of course, there are various other factors you'll also want to consider before making your decision, as we'll discuss below.
Appearance
When discussing the merits of a central air vs. ductless AC system, we have to breach the topic of appearance. As a homeowner, it's pretty safe to say that you have an idea of how you want your home to look. Believe it or not, the type of air conditioner you choose can impact this look in unexpected ways.
Take ductless mini split units, for example. These systems have an outdoor unit that connects to multiple indoor air handlers. Since there's no ductwork involved, these indoor units are installed in the individual rooms you wish to cool.
In most cases, the air handlers are installed on either your walls or ceiling, so they're always visible. This visibility might not appeal to homeowners who are looking to maintain a specific style inside their homes. If you don't want your air conditioner to be visible, you may want to install a ducted system.
Efficiency
If you want to know whether a central AC or ductless system is right for your home, you'll also want to consider energy efficiency. Overall, ductless mini split systems are known for being more efficient than central air units. This means that you can potentially waste less energy and save more money on your monthly energy bills with a ductless unit.
However, it's also crucial to point out that some central air conditioning systems can be more efficient than certain ductless units. So don't hesitate to reach out to an experienced technician to learn more about energy efficiency and how to find the right unit for your needs.
Costs
There are many advantages to central air vs. ductless AC systems. One of the most noteworthy benefits of central air units is that they're generally known to have lower upfront costs than ductless systems. Of course, the price you end up paying for your installation can depend on many factors, such as the size of your home.
The only way to know how much your AC service in McKinney, TX, will cost is to consult an expert. They will determine which size system you need and discuss installation costs with you.
Install a New Cooling System With Adon Complete!
It can be difficult to know whether you should install a central AC or ductless system — especially if you have a new house that's starting at square one. As you can see, there are several factors to consider before making the big decision. And once you're ready to install your cooling system, turn to Adon Complete Air Conditioning & Heating for help!

Our professional team installs all types of HVAC systems, from mini split heat pumps to central air conditioners. So whether you need a mini split installation or AC repair in McKinney, TX, you can count on us to find the best solution for your family's needs. Contact us today to schedule an appointment!

3 Advantages and Disadvantages of High-Efficiency Heat Pumps » « Do Heat Pumps Save Money?