Commercial Heating Repair, Maintenance & Replacement In The McKinney, TX Area
Commercial heating may seem like a trivial thing compared to the need for air conditioning in our area. However, you would not want to be caught without a commercial heating system in the middle of winter, nor would your customers, tenants, clients or employees. Fortunately for you, with our comfort specialists on your side, you never have to worry about your commercial heating situation.
Adon Complete Air Conditioning & Heating offers comprehensive commercial heating services throughout McKinney, TX. We're focused on customer service and helping the environment. That's why our comfort specialists design and install custom commercial heating solutions from exception brands like Lennox, RunTru, and more. We service all makes and models and offer affordable HVAC solutions for all your company's comfort needs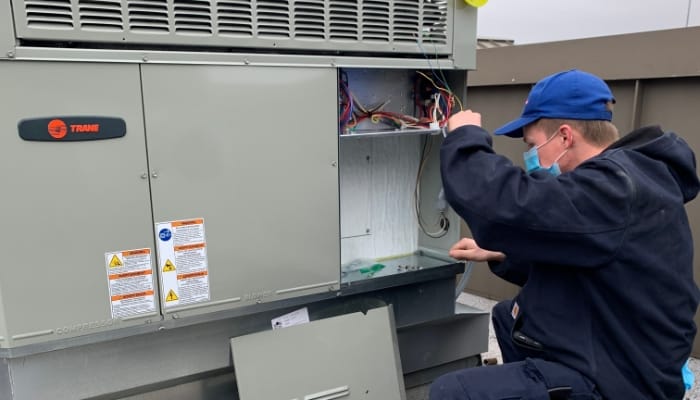 Trust Us With Your Commercial Heating Installation and Replacement
Installing and replacing a commercial heating system is a tall order, even for professional HVAC companies. Many companies don't even offer commercial heater installation and replacement services, since it requires additional professional training and equipment. We're not just any HVAC company, though.
Our expert comfort specialists have many years of experience providing commercial heating installation and replacement services. If you need a commercial heating system installed or replaced, we're here to help you out.
We Can Handle Your Commercial Heating Maintenance Needs
Regardless of what kind of commercial heating system you have installed in your building, it's in your best interest to make sure that it receives preventive maintenance on a regular basis. Many of the issues that can afflict commercial heating systems don't offer any kind of obvious symptoms to indicate their presence. At least not until they've developed for a fair amount of time.
If you want to keep your commercial heating system in top condition, it's best that you find and fix problems with your system before they develop too far. The best way to do that is to schedule preventive maintenance for your system.
A preventive maintenance appointment gives your comfort specialist the opportunity to locate any issues that may be present in your commercial heating system and solve them before they have the chance to cause too much damage. By doing so, you'll reduce repair costs and increase the lifespan of the system.
We Can Handle Your Commercial Heating Repair
It's important to remember that preventive maintenance cannot completely prevent issues from occurring. Sooner or later, your commercial heating system will likely have some sort of issue. If and when that happens, you should call for repairs as quickly as possible. We can restore your commercial heating system to the proper operating position, ensuring it doesn't compromise your comfort for too long.
Adon Complete Air Conditioning & Heating offers a full range of commercial heating system services. If you need a heating system installed, repaired, maintained or replaced, contact us today at (903) 482-4900 to schedule an appointment with one of our comfort specialists.