Heating Repair Service for Plano and North Texas
Is your heating system not performing as it should? Are you feeling the chill due to your heater not blowing hot air? Look no further than Adon Complete Air Conditioning & Heating, the leading heating repair company in Plano and North Texas. We understand the importance of maintaining a comfortable home and ensuring your heating system is functioning optimally.
We pride ourselves on our commitment to customer satisfaction and look forward to assisting you. Don't wait —contact us today to learn more about our heating unit repair services!
We're Your Expert Heating Repair Company
Our commitment to exceptional service and customer satisfaction is unmatched as a heating repair company. We understand the discomfort and potential health risks associated with a malfunctioning heating system, especially during the cold winter months.
Whether it's a minor repair or a major system overhaul, our heating repair contractors are equipped to handle it all. Our team is experienced in handling a variety of heating systems and can troubleshoot and fix the problem in no time.
What Sets Our Heating Repair Contractors Apart?
From diagnosing heating unit issues to delivering efficient home solutions, our heating repair contractors are dedicated to restoring your home's comfort. To ensure our team is equipped for any job, we have fully stocked trucks ready to go to efficiently handle any residential heating repair, including replacing damaged and faulty parts.
We also pride ourselves on customer satisfaction, and to prove it, we offer a 100% satisfaction guarantee. Our highly trained heating repair contractors provide prompt response times to ensure you receive the best service possible, no matter the time or day. Whether you require emergency heating repair or regular maintenance services, our team will handle everything promptly and professionally.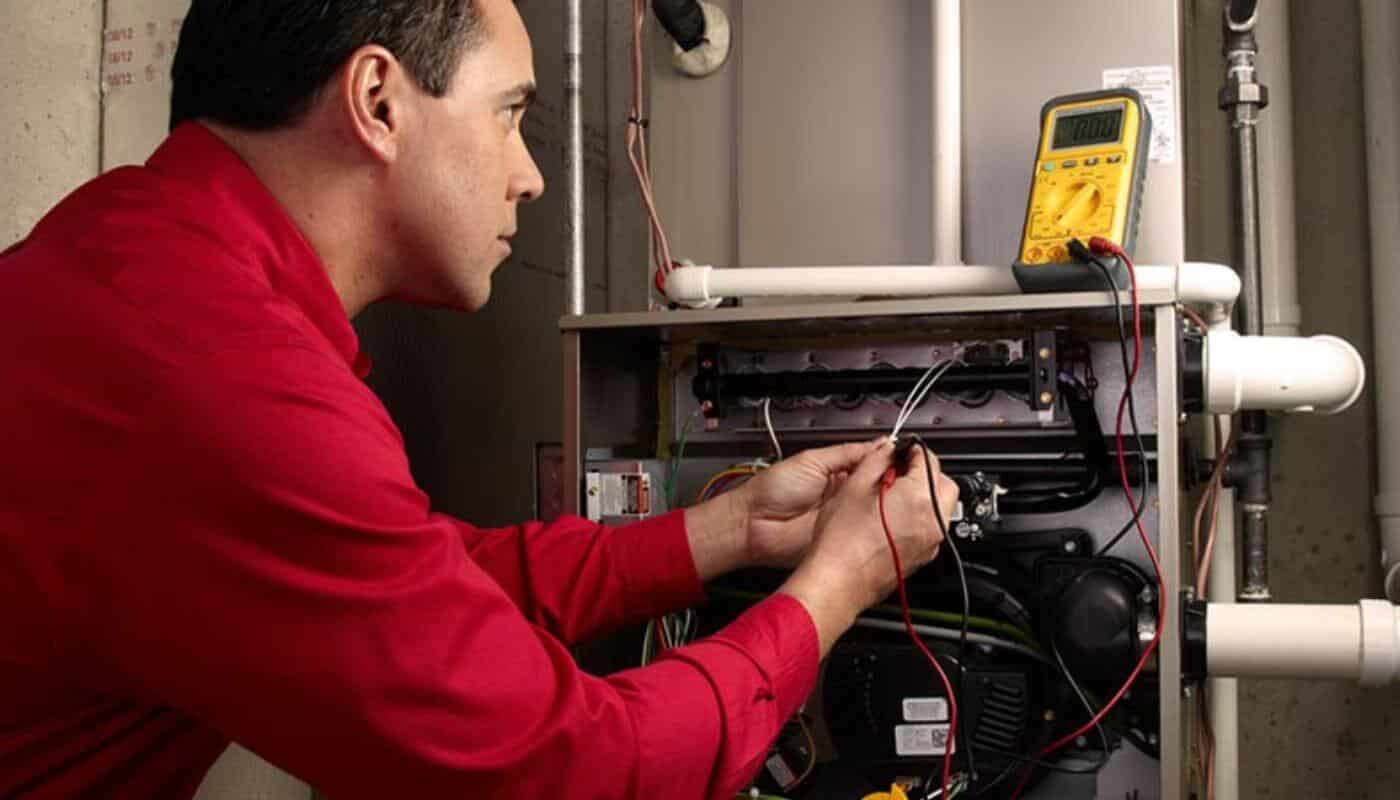 Reliable Heating Unit Repair
Common heating problems range from a broken heating unit to a heater not blowing hot air. Regardless of the issue, our team is ready to restore your heating unit to optimal function. We understand that a malfunctioning heating system can lead to uncomfortable living conditions. That's why our heating unit repair services are designed to quickly resolve these problems and restore your home's comfort.
Our approach includes a thorough assessment of your heating unit, identifying any potential issues, and providing honest and professional opinions on the best repair options.
Broken Heating Unit? We're Available 24/7
Whether it's due to a faulty thermostat, clogged air filters, or a major mechanical issue, a heating system breakdown is never pleasant. That's why our heating repair company is dedicated to providing around-the-clock services.
When it comes to a broken heating unit, we understand that time is of the essence. As a result, we offer 24/7 heating unit repair services to ensure that you're never left in the cold. Our team is always ready to assist you.
What to Do When Your Heating Unit Is Broken
First and foremost, make sure to turn off your heating system and avoid touching any electrical components. The next step is to call a professional. Our expert heating repair contractors are available around the clock to assess and fix your heating unit. Our priority is to restore your heating system as quickly as possible while ensuring the repairs are long-lasting and durable.
Schedule Your Residential Heating Repair Today
A malfunctioning heating system in your home can cause more problems than just a lack of warmth. It can lead to increased energy bills, discomfort, and even health risks. As the system struggles to maintain the desired temperature, it can consume more energy, driving up your bills significantly. Thankfully, timely repairs can prevent these problems. It's a good idea to call our professionals as soon as you notice any red flags, such as strange noises or weaker airflow. 
At Adon Complete Air Conditioning & Heating, we are committed to providing prompt and efficient residential heating repairs to all our clients. Our team of experts has extensive knowledge and experience in all types of heating systems and brands. Using our state-of-the-art equipment and tools, we can accurately diagnose the problem and provide reliable and long-lasting solutions.
We can also ensure your home stays warm during the cold months with our top-notch heating installation and efficient furnaces. For year-round comfort, check out our HVAC maintenance services and energy-saving heat pumps.
With all these insights into our heating repair services, why wait any longer? Schedule your residential heating repair today!
We proudly serve the residents of:

Allen, TX 

Anna, TX 

Arlington, TX 

Aubrey, TX 

Blue Ridge, TX 

Carrollton, TX 

Cedar Hill, TX 

Celina, TX 

Dallas, TX 

Denison, TX 

Fairview, TX 

Farmersville, TX

Frisco, TX 

Garland, TX 

Gordonville, TX 

Gunter, TX 

Howe, TX 

Leonard, TX 

McKinney, TX

Melissa, TX 

Plano, TX 

Pottsboro, TX

Princeton, TX

Prosper, TX 

Richardson, TX 

Rockwall, TX 

Sherman, TX 

Tioga, TX 

Tom Bean, TX 

Trenton, TX 

Van Alstyne, TX 

Weston, TX 

Whitesboro, TX 

Whitewright, TX
We take pride in making high technology affordable for all of your comfort needs.

We believe in strong customer service and provide only the best.
Contact us online or give us a call at (903) 482-4900 to schedule your heating repair service today. We're proud to perform quality heating repair in Allen, Frisco, McKinney, Melissa, North Plano, Sherman and the surrounding Texas communities.